Just another Acrylic TKL [Do not order]
For each of the items, please click on the small image sign to the right of its name if you wish to see it and the images in greater detail!
Keycaps
Stylize your keycaps. Please look towards the Base Kits or the 1st 3 options. At the moment, Purpolch R2 is a complete Pre-order and will only be in stock much later. Keycaps shown here are fully compatible with the board!
Browse Keycaps
Switches
Choose between switches for something you fancy :)
Linear
A pleasing linear compression.
Tactile
Feel a tactile bump on each keystroke.
Silent Switches
Silence is golden
Stabilizers
Please note that you will need to purchase one set! Will be provided in Black or White.
Browse Keycaps
Accessories.
Good to have. Protective case comes with a microfibre cleaning cloth. Switch pullers and Wire keycap pullers are essential for regular keyboard cleaning and maintenance.
Do not order. 

Regarding PCB: 7u only and 1.2mm. No shims provided.

Acrylic TKL is just another Acrylic Stack TKL!
We're really excited to bring this project to you and make Acrylic Stacks more available to the public.
The options indicate the color options that are available for sale and the price INCLUDES case screws and nuts.
Please also note that the progress and success of the group buy will depend on the manpower as well as the logistics side of the supply chain. We reserve the right to cancel the orders should there be any hiccup in the process. Ultimately, we still aim to fulfill the group buy without any issues. 
Should there be any queries, please feel free to hop onto our server to speak with our community members/moderators. 
Server: https://discord.gg/edV63Nszby
Please note the following:
- ktechs is only able to inspect the acrylic protective covering for cracks and will not be able to discern the condition of the acrylic underneath the protective covering. 
- After the QC, we will not be responsible for issues related to acrylic cuts/fittings. 

- Do remember to head to our other listing to purchase the necessary add-ons for your order. 
- We try to optimize the number of plates and reduce them accordingly to make it easier for the builder (estimated 4 to 5 plates at most)
- Regarding Radiant layers, the following information is to be noted:
Radiant Manu A produces a better layer of Radiant film with fewer indentations in them
Radiant Manu B's photos are being featured in the photos that are being used. 

Transparent + Radiant base plate: A Radiant coated bottom plate + Transparent top plate and middle plates for the Radiant layer from the bottom to spread upwards.
Full Radiant: Other than the middle plates which are transparent, the entire Top and Bottom Plates are made with Radiant Acrylic.

GB Duration and details:
This is a pre-order item. Please note that fulfillment is subject to delays

Some other commonly asked questions:
Q: What's the difference between WKL and WK? 
A: They stand for Winkey and Winkeyless (Windows key).
The 3rd picture shows WKL(Winkeyless), where the slot for the Windows Key is blocked out.
The first picture shows WK(Winkey) where there is no presence of the blocker.
Q: Where do I go if I have other questions?
A: Head over to our discord channel here: https://discord.gg/geEc9faEVU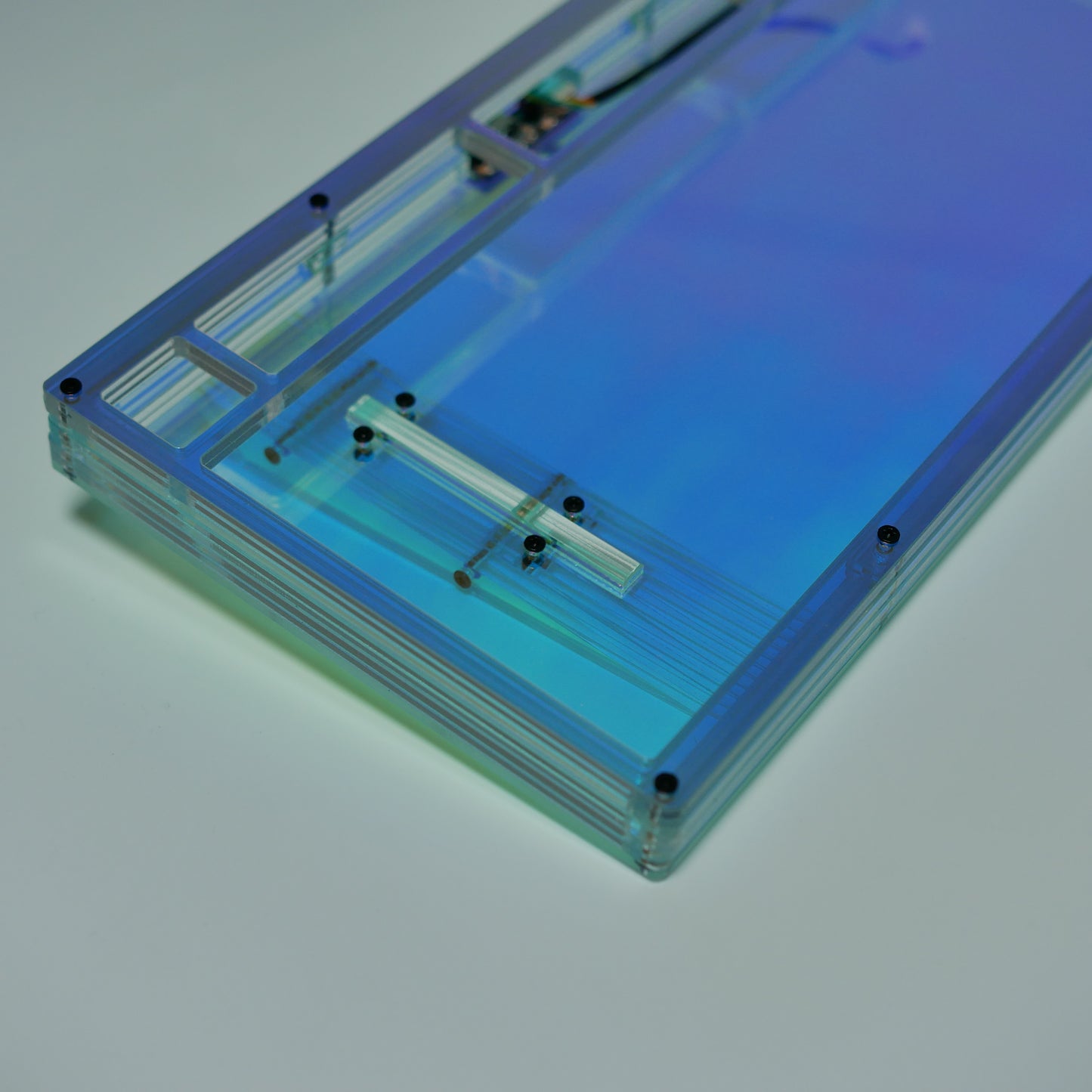 Choosing a selection results in a full page refresh.